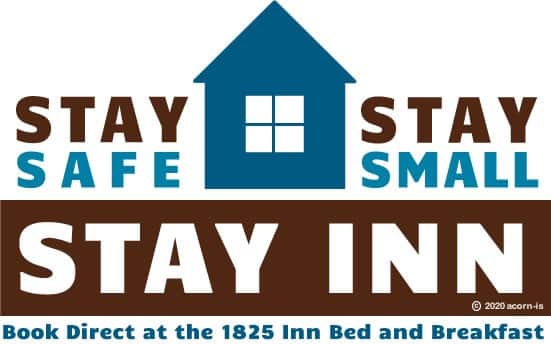 Pennsylvania has extended it's stay at home order for nonessential workers for much of the state until June 4, 2020. For more information on how Pennsylvania is responding to COVID-19 click here. The 1825 Inn is following Governor Tom Wolf's orders. But as Pennsylvania and more specifically, Lebanon and Dauphin counties, transition to a partial reopening the 1825 will operate under new procedures. We are a small business that has always had a strict cleaning plan. Our inn is also our home and as such we have always taken great pride in its cleanliness. But with COVID-19 we have taken a closer look at our procedures and implemented additional sanitation processes and modified operations. For those visiting our inn we want to make you aware of these changes and ask that you help us in this process.
At the present time, there is risk associated with any travel. While we are doing everything in our power to minimize this risk at the inn, we cannot guarantee you will not come in contact with COVID-19 during your stay in the Hershey area. If you do not want to accept this risk, please notify us immediately AND WE WILL ISSUE YOU A FULL CREDIT FOR A FUTURE STAY WHEN YOU WOULD FEEL MORE COMFORTABLE TRAVELING.
We HAVE THE RIGHT TO REFUSE SERVICE IF A GUEST PRESENTS SYMPTOMS OF ILLNESS UPON CHECK IN OR DURING THEIR STAY. PROTECTING THE HEALTH OF ALL IS OUR TOP PRIORITY. If we feel you may be sick, we will ask you to leave and refund you the remainder of your stay.
If you feel sick or believe you may have been exposed to COVID-19 we encourage you to stay home. We will gladly move your reservation to another time AND WILL NOT CHARGE A PROCESSING FEE.
In an effort to minimize contact between guests we will have a maximum of three guest rooms in the main house occupied at any given time.
Since our cottage rooms each have separate entrances they may be occupied as well.
We have modified our breakfast procedures.

To maintain social distancing, we will serve no more than three guest rooms at any one time in our breakfast room. Guests staying in the main house will be given priority access to the breakfast room.
If there are three guests staying in the main house as well as guests in our cottages, we will ask that our cottage guests be served breakfast in their room.
We have temporarily suspended our yogurt and juice bars. Juice and coffee will be served at the tables.
All food is prepared by only Don and Ellen following strict health and CDC guidelines.

All staff will follow an increased hand washing schedule. This includes washing between contact of items of individual guest rooms.
We ask that our guests wash their hands frequently as well.
Ellen and I are choosing to wear face masks during check ins and breakfast for the safety of all. This means you won't see our smiles but do know we are thrilled to see you. We believe face masks are our new normal and we invite you to wear them in our common areas.
We have implemented additional sanitation procedures for each guest room which include:

Closing off each guest room for a minimum of 48 hours after each guest stay.
Sanitizing high contact items such as switches, doorknobs, remotes, faucets, and flush handles.
We have temporarily removed extraneous fabric items such as bedspreads, robes, decorative pillows, and exposed fabrics. Guests staying in our cottages can request robes upon check in.

We have implemented additional sanitation procedures for common areas such as doorknobs, railings, and breakfast bar.
IN KEEPING WITH THE HOSPITABLE ENVIRONMENT, WE WILL CONTINUE TO HAVE COMPLIMENTARY SNACKS AND SODA AVAILABLE – SIMPLY ASK AT THE DESK AND WE'LL GET THEM FOR YOU. WE WILL ALSO PROVIDE ICE IF YOU NEED IT
We have temporarily suspended our daily refreshes of guest rooms for multiple night stays. If you require additional linens or supplies, please let us know.
Many restaurants in the Hershey area are serving meals for takeout. But at the present time no restaurants are serving on site.

We can assist with obtaining meals to go if you like.
For guests staying in our cottage rooms dinners can be enjoyed in room. We can assist with additional silverware, plates, etc. Please see us if needed.
For guests staying in the main house dinners can be enjoyed in our breakfast room. We can assist additional plates, silverware, etc.
During nice weather, all guests can also eat on the deck. Please make sure you allow ample room between guests when more than one party is present.
If you are eating at the property, please make us aware of this so we can clean up any utensils, and clean and sanitize the eating area when finished.

All staff are being monitored for signs of symptoms.
As everything about this virus continues to evolve, these precautions are subject to change at any time.
We will continue to keep you up to date on any changes as they occur. As always, we greatly appreciate your support of small businesses like our own. We will continue to serve you to the best of our ability given any set of circumstances. Thank you.
Don & Ellen