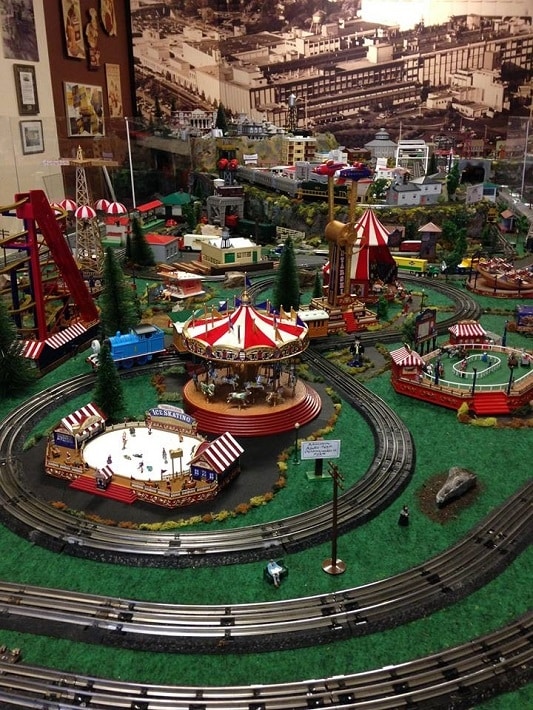 TRAIN DISPLAY
HERSHEY-DERRY TOWNSHIP HISTORICAL SOCIETY
HERSHEY, PA
If you're a model train hobbyist..or a fan of model trains, now is the time to head over to the Hershey-Derry Township Historical Society to catch a glimpse of this display before it goes away for another year. The last day to enjoy the exhibit this season is January 9th, but they do open around mid November each year.
For eleven years now, dedicated volunteers have come together at the Society at 40 Northeast Drive in Hershey to build this holiday display for all to admire. A labor of love, it takes many hands and many hours to have the exhibit ready in time for opening day. Most of the eight trains on display are by Lionel (there are several other manufacturers represented as well), and date from the 1930's and the 1960's. Activity buttons are located around the sides of the displays where those so inclined can push them to activate trains, amusement rides and other items included in the display.
Of note: There is also a section dedicated to some of downtown Hershey's historic buildings…either still standing or stood at one time. Included are the Hershey Railroad Station, Cocoa House, Cocoa Inn and Hershey Chocolate Factory.
For more information on this display or the Historical Society, please visit their website.
2016 Dates: Saturday, January 2, 2016 – Saturday, January 9, 2016
Hours: Monday, Wednesday & Friday: 9:00 AM – 4:00 PM
Saturday: 9:00 AM – 12:30 PM
Admission Donation: Child – $1.00, Adult – $2.00, Family – $5.00
Book now at 1825 Inn Bed and Breakfast right next to Hershey PA